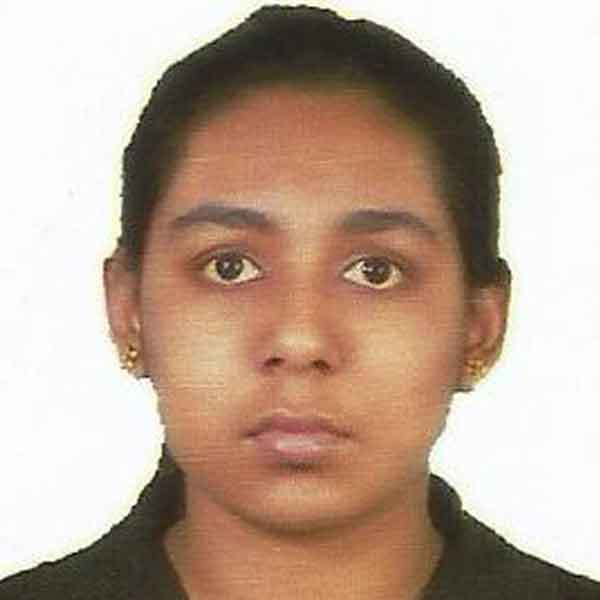 by Maisha M Prome from Hanoi, Vietnam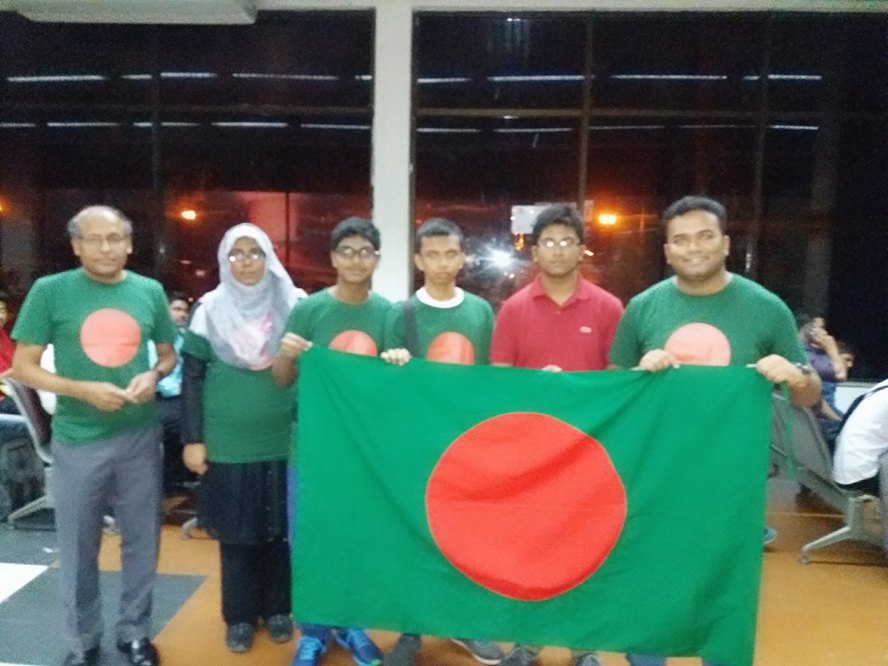 Day 0: 16 July 2016
We arrived at the Noi Bai Airport in Hanoi. Our guide, holding a sign that read "Bangladesh", met us as soon as we emerged from luggage retrieval. We exchanged our money for dongs, bought SIMs, and then boarded the bus.
The bus took us directly to Hanoi National University of Education (HNUE). The first thing we did there was to submit our registration papers and double-check the information previously submitted online. Then we participants gave up our phones and other electronic devices. After all the associated paperwork was completed, each of us received a bag full of gifts including a backpack, an umbrella, a hand fans, a T shirt and various other things.
We got back on the bus. The jury members were dropped off first at the Daewoo Hotel. The rest of us participants were subsequently taken to the La Thanh Hotel. After checking in, we went to eat lunch. We had already met our first team, the Greek team, at the Singapore airport and now we met our second: Team Japan. They appeared very prepared for networking, literally showering us with hand fans and cards containing their social network information.
After lunch, we went back to our rooms to settle in. I got to know my roommate, who was from Slovenia. Then Ayman and I came down to the lobby, wandering around, trying to gather the courage to talk to other participants, and desperately failing. After nearly two hours, Team India approached us and introduced themselves, which was a miracle.
We went to dinner and halfway through it, it started raining very hard. Since the restaurant was located in a different building, that meant we couldn't go back to our rooms until the rain stopped. In other words, we were trapped in the building with all the other teams from around the world and we would have to socialize to pass the time. Luckily, the Slovenian and Argentinean teams came up to us first and started a conversation which, despite the occasional awkward pauses, was nice.
The rain subsided somewhat, and everyone went to the Social and Cultural Events Room. There were board games, karaoke, and table tennis and pretty soon, the room was filled with chatter, singing and laughter. After playing a round of chess with Ayman, I went back to my room but everyone else stayed up until eleven like they did everyday for the rest of the week.
Day 1: 17 July 2016
The next morning, I got a wakeup call from Hoa, our guide, who told me to come downstairs for breakfast. The boys were already there when I got to the lobby, meeting other participants. We went to breakfast after which our guide suggested we go do some shopping at the local department store. We had nothing to do all morning so we agreed. We got to Lotte Mart where we bought fruit chips, chocolates and other things to take home as souvenirs. Hoa then took us to the Observation Deck of the Lotte Building, the second tallest building in Hanoi. The tickets cost $8 but it was definitely worth it; from the Observation Deck, we got an amazing view of all of Hanoi. But the best part was the glass floor that jutted out from the side of the building. When we stepped on it, we could see the city spread out beneath our feet: a both scary and thrilling experience.
We then returned to the hotel to get ready for the Opening Ceremony.
Opening Ceremony
The buses took us to the National Convention Center. We found our seats and waited for an hour for all the jury members and guests to arrive. The opening ceremony finally began. There were the speeches by dignitaries, traditional Vietnamese opening performances, and then each team had to come up on stage.
We four were pretty nervous and when it was our turn to come up on stage, we messed it up like typical first timers. Wasee bumped into Wasique and Ayman broke up the line, walking next to me instead of behind me just to keep the flag straight. We went back to our seats and watched the remaining teams present themselves. Each team was either dressed in suits, matching T-shirts, or the traditional clothes of its respective country. What was interesting was the way some teams greeted the audience. While we had just smiled and waved at the audience (except Wasee who was wearing his irremovable "kill me now" expression") others did traditional dances, threw candy at the audience and various other crazy things.
A welcome party followed the ceremony. We had dinner and met a lot of teams. It was literally a souvenir exchanging fest and at the end of the day, we each had a large collection of small trinkets from various countries. Unfortunately, as we had come unprepared, we had nothing to distribute ourselves.
Things to keep in mind for next year: Take Bangladesh themed souvenirs, like maybe tiny Bangladesh flags or even small toy tigers. Take enough to give one to every participant.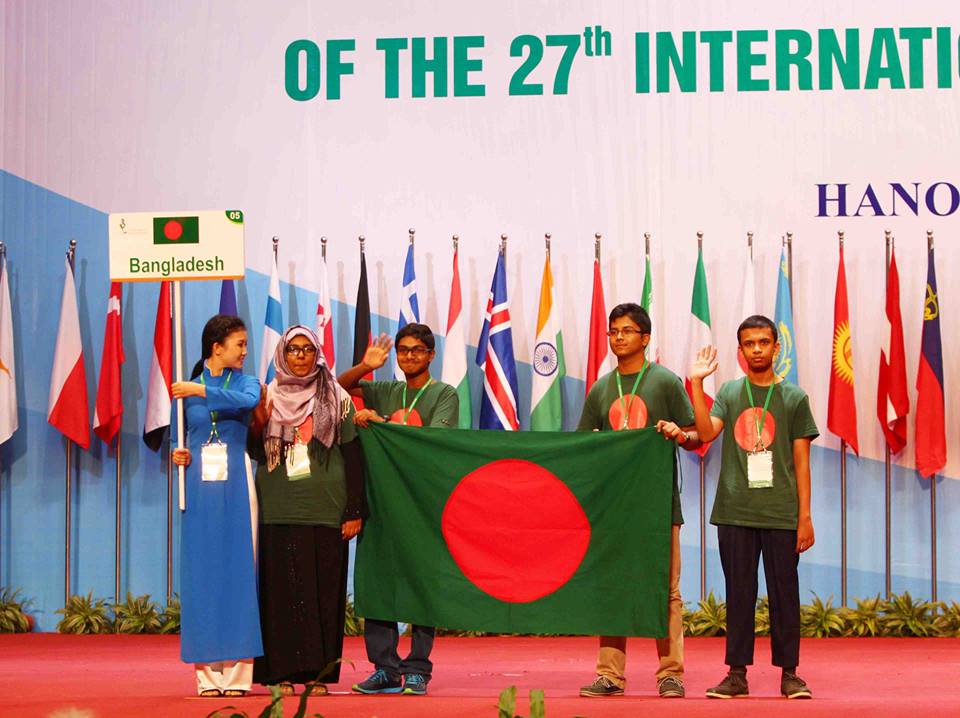 Day 2: 18 July 2016
We went to the Temple of Literature where we saw a giant statue of Confucius and many stone tablets inscribed with the names of ancient Vietnamese scholars. Our tour guide explained the significance and history of each part of the temple. It was very awe-inspiring but had the weather been less hot and humid, the excursion would have been more enjoyable.
We next went to the Old Quarter. We got into electric cars which drove us around through the place. The narrow, winding alleys, the small but countless shops selling almost everything, and the merchandise spilling out onto the sidewalks did indeed look a lot like Nilkhet, as Wasique pointed out. The electric car brought us back to our starting point, Hoan Kiem Lake. We crowded around our tour guide who, against the backdrop of the green waters of the lake, told us the story of the giant turtle that had lived there.
Next on our schedule was to go to HNUE to check out the practical equipment that we would be using during the exams the next day. We were split into groups and taken to the labs. Much of the equipment, such as the pipette and the compound microscope were familiar to us while there were others like the pH meter and the stereomicroscope that we had never seen before. Some of the equipment and their usage were explained in detail.
Day 3: 19 July 2016

We went to HNUE for the practical exams.
Practical Exams:
We were split into four groups, A, B, C and D, each group containing one participant for each country. Groups sat for different exams, and then were rotated. My group, Group C got Biochemistry first and I must say it was by far the worst exam I had ever taken. Everyone agreed that Biochemistry was especially bad. Speaking from my own experience, I spent an hour just trying to read and understand the Gel Electrophoresis question. In the end, I couldn't understand it at all and so I moved on to the titration question. I spent the remaining half hour carrying out the dilutions and the bell rang before I could write down the results of my first titration. In other words, my question paper was veritably blank when I submitted it.
Afterwards, each exam went progressively better. I had Molecular Biology next and although I failed to carry out the gel electrophoresis yet again due to time constraint, I could answer part of the first question. Plant Anatomy went much better as plant sectioning was one thing we had prepared for during training. Animal Anatomy also went well for all of us.
Things to keep in mind for next year: Practicing gel electrophoresis is mandatory for us if we are to do better next year. Additionally, time constraint was a problem in all four exams so it's crucial that we do enough practical work and improve our skills in order to finish in time. We also have to learn experimental design and how much of each reagent we have to use during specific experiments. Attempting all of the previous practical questions from past years under exam conditions would also be a good idea.
Day 4: 20 July 2016

We went on an excursion to Bat Trang, the pottery village. A potter showed us how to make pottery out of clay on a potter's wheel. Then we got a chance to make our own pottery. We saw the last remaining ancient kiln, walked through the narrow alleys to the common house of the village and then painted pottery pieces to take home as souvenirs.
After having lunch at a restaurant, we went to the Museum of Ethnology where we learned about the various ethnic groups native to Vietnam. We then attended a water puppet show which was hilarious. It was amazing how the puppeteers could control the water puppets from long distances. Many of the scenes depicted reminded me of rural life in Bangladesh.
Day 5: 21 July 2016

We went to HNUE for the Theoretical exams.
Theoretical exams:
There were 100 questions in total. We answered 50 before lunch and 50 after lunch. They went much better than the practical exams and that helped brighten our moods. I personally found that the questions themselves were not too difficult, but it was dealing with the stress that was the challenge. The first two hours were fine but by the third hour, my brain was tired and I could barely understand anything I was reading anymore. During the second half of the exam, I was guessing nearly all of the answers because I could no longer think under so much mental exhaustion.
Things to keep in mind for next year:
It is important to train ourselves to become accustomed to mental strain for such long periods of time and also to learn to solve questions faster. Time management was yet again a factor limiting our performances but I believe that had we practiced more theory papers from previous years, we could have overcome that.  Mock exams during training are essential.
When the exams were over, we got our phones back. It felt great talking to our families again after 5 days of isolation. A party and cultural show ensued to celebrate the end of all the exams.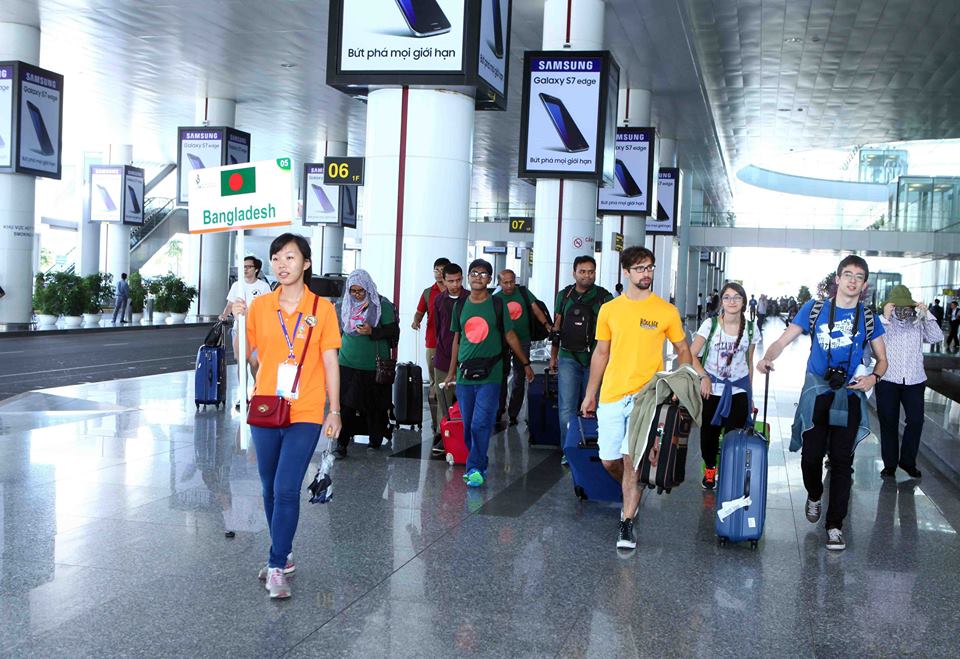 Day 6: 22 July 2016

We went outside of Hanoi to the countryside. We first went to Trang An, taking a boat through the beautiful lakes and caves. Going through the caves was indeed an amazing and novel experience. The boat ride lasted almost two hours and we finally got off and headed to the hotel where lunch was served. Then we went to Bai Dinh Pagoda, the largest pagoda in Vietnam. It was interesting to see all the thousands of identical little Buddha statues. We took a long time walking down the mountainside, which was tiring but an interesting experience as well.
Day 7: 23 July 2016

We were free all morning until lunchtime so our guide took us back to the Old Quarter, this time to go shopping. As we were leaving the next day, we spent almost all of our remaining Dongs on things to take back home such as hand fans, fridge magnets, key chains, etc.  The four of us chipped in and bought a purse which we presented to our guide as a thank you gift.
Things to keep in mind for next year:
Bring a special gift from Bangladesh just for the guide.
Closing Ceremony:
The closing ceremony was at same place as the opening ceremony: the National Convention centre. There was another round of speeches from honorable guests. There were traditional Vietnamese dances. And there was the part when a member from each team had to go on stage to join in singing "Heal the World". (I had to go from the Bangladesh team because none of the boys were willing to.) When all the performances were over, they started the actual part of the ceremony: announcing the results. We, the Bangladesh team, held our breaths while they announced all the bronze winners. When they started on silver, we all knew that none of us had won a medal. While it was a little disappointing, it wasn't surprising.
There was a party after the closing ceremony. Just as we finished dinner with our jury members, our guide brought us an envelope containing our certificates and we discovered that Wasique and I had received Merits. They weren't medals, but they were better than nothing and we were content.

Day 8: 24 July 2016

It was our last day in Vietnam. We packed up, said goodbye to all our new friends, took the last selfies, and then left for the airport.