বাংলাদেশ জীববিজ্ঞান অলিম্পিয়াডের পক্ষ হতে আন্তরিক শুভেচ্ছা। শিক্ষার্থীদের মাঝে জীববিজ্ঞান বিষয়টিকে জনপ্রিয় করার লক্ষে ২০১২ সাল থেকে ধারাবাহিকভাবে বাংলাদেশের বিভিন্ন আঞ্চলিক ভেন্যুতে আমরা জীববিজ্ঞান উৎসব আয়োজন করে আসছি। এর ধারাবাহিকতায় ৫ ফেব্রুয়ারি ২০১৬ রোজ শুক্রবার ঢাকা বিশ্ববিদ্যালয়ের কার্জন হল প্রাঙ্গনে দ্বিতীয় জাতীয় জীববিজ্ঞান উৎসব আয়োজন করা হয়।
Heartiest greetings from Bangladesh Biology Olympiad. To popularize biology among students we have been continuously arranging biology olympiads at different regional venues of Bangladesh. As a legacy of such efforts, the Second National Biology Olympiad was arranged on 5 February 2016 (Friday) at Dhaka University Curzon Hall premises.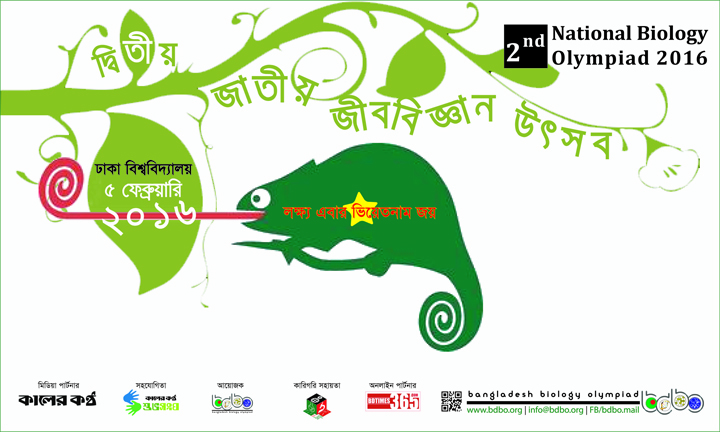 Date: 5 February 2016
Venue: Dhaka University [Curzon Hall; Dept. of Botany; Dept. of Soil, Water & Environment; Dept. of Microbiology]
Categories : Three; Junior (VI-VIII/Equivalent), Secondary (IX-X/SSC/O-level/Equivalent), Higher Secondary (XI-XII/HSC/A-level/Equivalent)
Number of Student Participants: ~1000
Number of Total Participants: ~3500
Total Number of Districts from which Participants attended: ~47
Total number of educational institutions participated from all over the country: ~60
Media Partner: Kaler Kantho
Cooperation: Kaler Kantho – Shuvosangha
Tech Assistance: Lab Bangla
Online Partner: BD Times 365
Find over 1300 pics of the 2nd National Biology Olympiad 2016 in our Facebook group album.
---
Winner List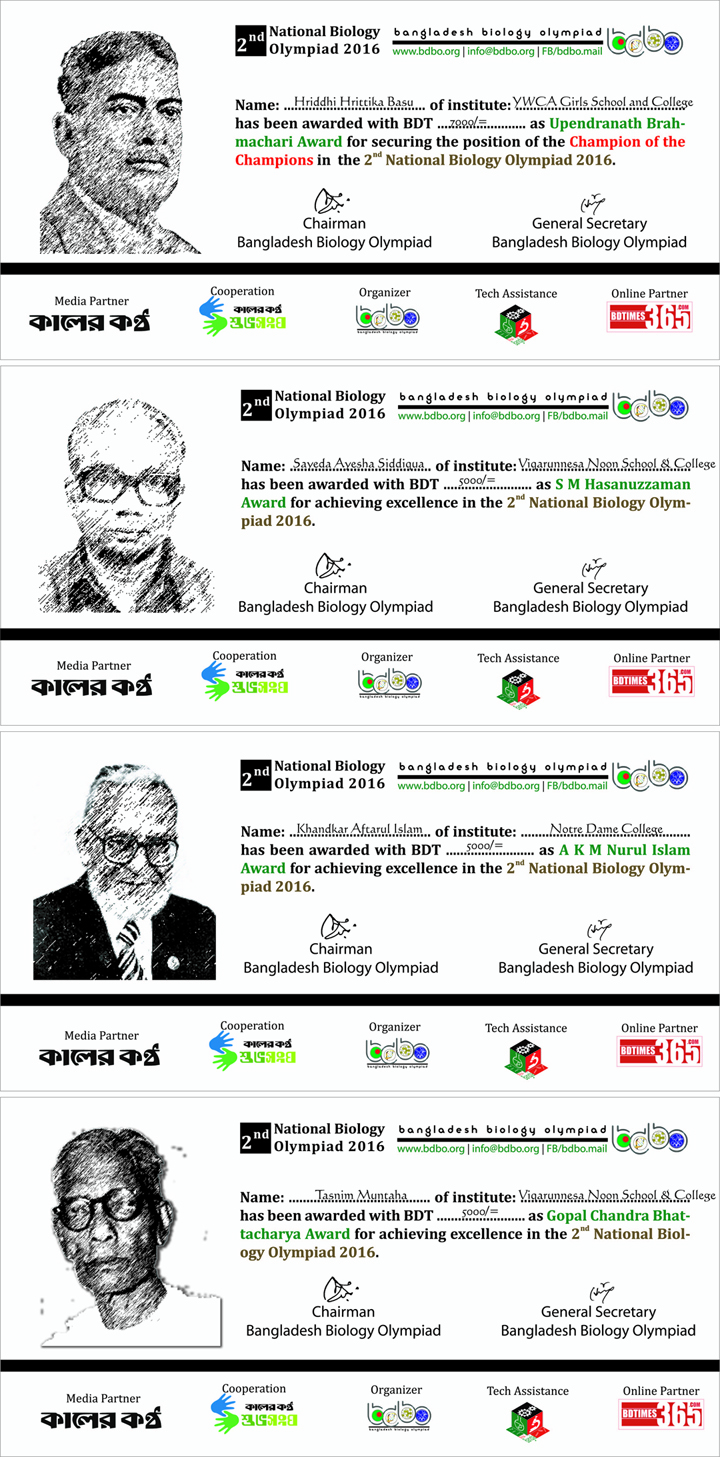 Category: Higher Secondary

Maisha M. Prome
Oxford International School
Champion
Ismat Doha Bin Mishel
Rajuk Uttara Model College
Champion
Saif Bin Salam
SPSC
Champion
Sapphire Sajon
Notre Dame College
First Runner Up
Ahmad Musa
Saint Joseph School & College
First Runner Up
Sabrina Sultana Suchi
SPSC
First Runner Up
Mohammad Fardeen Shihab
Mastermind
First Runner Up
Abdul Mukit
Notre Dame College
First Runner Up
Shah Ishmam Mohtashim
Saint Joseph School & College
First Runner Up
Sadia Jahan Prova
Viqarunnesa Noon School & College
Second Runner Up
Kaniz Fatema
Viqarunnesa Noon School & College
Second Runner Up
Anirban Ahmed
Saint Joseph School & College
Second Runner Up
Ibtisham Haque
Mastermind
Second Runner Up
Wasique Hasan
Mastermind
Second Runner Up
Abdullahil Kafi
Rajshahi College
Second Runner Up
Nafiza Tasnim Ahmed
Holy Cross College
Second Runner Up
Mahbuba Rahman Seba
Viqarunnesa Noon School & College
Second Runner Up
Monisha Chakder
Holy Cross College
Second Runner Up

Category: Secondary

Arnab Chakraborty
Mastermind
Champion
Soubir Datta Gupta
Mastermind
Champion
Isaiah Tripland Heaven
Tulip International School, Dinajpur
Champion
Paramita Protik Das
Sunnydale
Champion
Maliha Ferdous
Viqarunnesa Noon School & College
First Runner Up
Mobin Ibne Mokbul
Government Laboratory High School
First Runner Up
Miraz Ahammad Sadi
BAF Shaheen English Medium School
First Runner Up
Niloy Gomes
BACHA English Medium School
First Runner Up
Nooray Jannat Hrida
Narshingdi Govt. Girls' High School
First Runner Up
Shrestha Chowdhury
Dr. Khastagir Govt. Girls' High School
First Runner Up
Ahmed Yesvi Rafa
Govt. Laboratory High School
First Runner Up
Sumaya Sultana
Narshingdi Govt. Girls' High School
First Runner Up
Sayeda Rana Prapti
Mastermind
Second Runner Up
Shriqa Tasnim Shaila
Mastermind
Second Runner Up
Pritom Krishna Kundu Prateous
BAF Shaheen English Medium School
Second Runner Up
Prima Donna
BISC
Second Runner Up
Ifrit Tahmid
Ideal School & College
Second Runner Up
Nafisa Anjum
Viqarunnesa Noon School & College
Second Runner Up
Mir Jubair Rahman
Dhanmondi Govt. Boys' School
Second Runner Up
Md. Asif Hossain
Shaheed Police Smrity College
Second Runner Up
Shadman Shahriyan Ornob
Methodist English Medium School
Second Runner Up
Imamul Hossain
New Model High School
Second Runner Up
Kaies Ahmed Biplab
Shaheed Ramijuddin Cant. School
Second Runner Up
Md. Ibrahim Khalil
Brahmanbaria Govt. College
Second Runner Up

Category: Junior

Riadil Jannat
Sher-E-Bangla Nagar Govt. Girls' High School
Champion
Wasee Rahman Chowdhury
Scholastica
Champion
Showmick Ranjan Paul
BL Govt. High School, Sirajgonj
Champion
Rodoshi Rahman
BISC
First Runner Up
Sharar Ahsan
Viqarunnesa Noon School & College
First Runner Up
Nusrat Jahan Beg
Sher-E-Bangla Nagar Govt. Girls' High School
First Runner Up
Maria Akter Ashamoni
Mirpur Govt. High School
First Runner Up
Sirazzum Munara Ryma
Viqarunnesa Noon School & College
First Runner Up
Ayman Wadud
Saint Joseph School & College
First Runner Up
Sadman Rahman
Saint Joseph School & College
First Runner Up
Amit Biswas
BRRI High School
Second Runner Up
Sapnil Mostafiz Siam
Cherry Blossom International School
Second Runner Up
Farah Ismail
BISC
Second Runner Up
Rabeya Binte Ali
BISC
Second Runner Up
Md. Marshedul Islam Sakib
Rayer Bazaar High School
Second Runner Up
Ayesha Siddika
Viqarunnesa Noon School & College
Second Runner Up
Anjuman Ara Al Jannati Dia
Holy Cross College
Second Runner Up
Nusrat Sayem
Viqarunnesa Noon School & College
Second Runner Up
Tasmim Anan Protiva
Mirpur Govt. High School
Second Runner Up
---