Time: 10 am to 1 pm
Venue: Office 606, Meher Tower, Bir Uttam CR Dutta Road, Hatirpool, Dhaka-1205
Participants:
Prof. Rakha Hari Sarker
Md Samiul Alam Rajib
Saumitra Chakravarty
Auniruddha Pramanik
Rafikul Islam
Ahmed Abdullah
Md. Asif Ahmed Sami
Abdullah Al Kaiyum Arpon
Md. Abdullah Al Noman
Abu Sama
Md. Tareq Rahman
Md. Saifullah Mahmud
Sagarika Singh Pinky
Swastika Chakrabarty
Progga Saha Shormi
Atonu Chakrabortty
Asadul Islam
Sumaia Akhter
Md. Fakhrul Islam Polash
Discussion on the different agenda of Bangladesh Biology Olympiad was done.
Agendum 1: Plans for IBO2017 on the Basis of IBO2016 Experience
At first one of the hon'ble juries, Md Samiul Alam Rajib shared his experience of International Biology Olympiad (IBO) after coming from Vietnam. He also gave a brief idea about the IBO question pattern this year and the student's performance in different sectors. He remarked the IBO participant selection system of Syria and Finland. An introduction to the next years IBO also was given.
In his discussion, some important points have come out…
More time is required to prepare the students for IBO.
Mixed selection system.
Assessment question for mock test should be as close to IBO papers as possible.
Interaction among the participant should be emphasized.
Our another hon'ble jury Prof. Rakha Hari Sarker emphasized on lab exam more than theory exam. According to him…
Parallel biology school should be started.
Students' English language proficiency should be developed in future especially considering the possibility of Bangla medium students to be selected for IBO.
Multi-stage camp or training for final team selection is to be arranged instead of just one camp.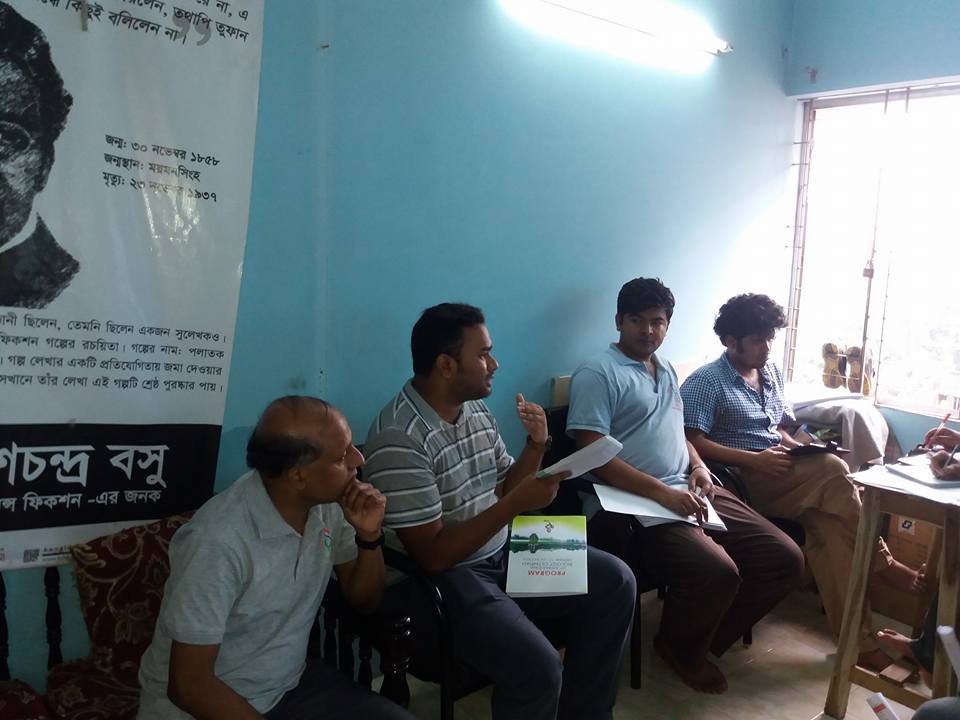 Agendum 2: Further Plans for IBO2017
Looking for sponsorship is essential since the registration fees for UK-IBO2017 is GBP1900. So the total cost of sending the team including all fees and plane fair is estimated as about BDT1200000.
Visa should be processed earlier for UK keeping at least 45 working days at hand.
The total tentative cost for the whole program of 2017 is estimated to be about BDT6000000. This again emphasized the need to find a title sponsor soon.
Finalizing Bangladesh Biology Olympiad regional committees as soon as possible. [to be done by Arpon and to be emailed to Rafikul and Saumitra]
Finalizing bdbo manifesto [reference: Prof. Md. Shahidur Rashid Bhuiyan] and applying for enrollment as a science volunteering organization under the Ministry of Science and Technology by 21 August 2016. Help of a lawyer may be required. [reference: Auniruddha]
Finalizing the proposal for Kaler Kantho by 21 August 2016.
Using OMR machine in all the olympiads from now on.
Agendum 3: Office Related Issues.
Shifting of bdbo office to a new and better facility within 1-2 months time.
The cost of office maintenance, rent, bills are to be splitted in half between Lab Bangla and bdbo because the two will share the new office like the current one.
The cost on behlaf of bdbo will be borne for now by means of monthly donations from committee members.
Miscellaneous Agenda
Upcoming BioTalks: selection of venues and speakers.
Reception Program for the team back from IBO. Tenatative date is 13 August 2016 at 10am, Frepd Auditorium, Plassey, Dhaka. [due to unavoidable circumstances the program has been shifted a week after, possibly on 19 August 2016 at the same venue]
Every member should submit their National ID and Student ID card through 

[email protected]

 , 

[email protected]
The minute of the meeting has been taken by Noman and digitally transcribed by Atonu.