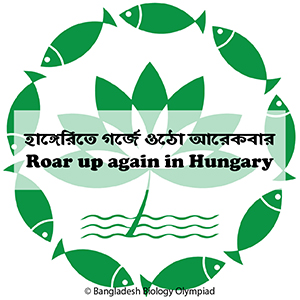 অত্যন্ত আনন্দের সাথে জানানো যাচ্ছে যে, দীর্ঘ যাচাই-বাছাইয়ের পর বাংলাদেশ জীববিজ্ঞান উৎসব ২০১৯ এর লোগো ও শ্লোগান নির্বাচন করা হয়েছে।
শ্রেষ্ঠ লোগোর ডিজাইনার: দুর্লভ ধর, চট্টগ্রাম

শ্রেষ্ঠ শ্লোগানের রচয়িতা: মো: আব্দুর রাকিব, সিরাজগঞ্জ
বিজয়ীদের প্রাণঢালা অভিনন্দন!
বিজয়ীদেরকে ঢাকায় অনুষ্ঠিতব্য আসন্ন জাতীয় জীববিজ্ঞান উৎসবে পুরষ্কৃত ও সস্মানিত করা হবে। উক্ত উৎসবের তারিখ জানুয়ারি ২০১৯ নাগাদ ঘোষণা করা হবে।
এই প্রতিযোগিতার যারা অংশগ্রহণ করেছেন তাদের সবার জন্য শুভেচ্ছা রইল।
---
We are very glad to inform that after a lengthy process of evaluation, logo and slogan for Bangladesh Biology Olympiad 2019 have been selected.
Designer of the best logo: Durlav Dhar, Chattogram


Author of the best slogan: Md. Abdur Rakib, Sirajganj

Congratulations to the winners!
Winners will be rewarded and honored at the upcoming National Biology Olympiad in Dhaka. The date of the festival will be announced by January 2019.
Best wishes to everyone who participated in this competition.